"Music is the voice that tells us that the human race is greater than it knows." - Napoleon Bonaparte
As a shared experience, the kitchen celebrates every culture. We are united as color is one hue. There is no race and no judgment as we all thrive in sounds heard together. Food and music overcome differences and distances to form common bonds. At The Studio by Feast it Forward our newest LIVE SERIES, "Riffs & Recipes" goes beyond the plate and guitar for an intimate experience and jam session as musicians and artists connect with chefs to discuss food culture within their city alongside what coming to them in the kitchen means to them.
Our first installment featured Martin Luther McCoy (RIFF) & Tanya Holland (RECIPE) while celebrating the heritage and history of Martin Luther King. While 20 guests enjoyed a VIP experience as studio audience members, 100% of ticket profits alongside online live streaming show donations supported TAKE WINGS FOUNDATION & CHEF CYCLE (NO KID HUNGRY). Thanks to our wine sponsors, B. Wise Vineyards,Oberon Wines & GIBBS Vineyards. libations were enjoyed as we RAISED a glass, awareness and funds. Considering the show was hosted during the highly anticipated NFL playoffs (ugh, sorry Cheifs!), we are proud to have raised over $1,000 for these worthy causes! Keep an eye out as we'll be announcing our LIVE SESSIONS, visiting talent and charitable partners in our 2019 event calendar.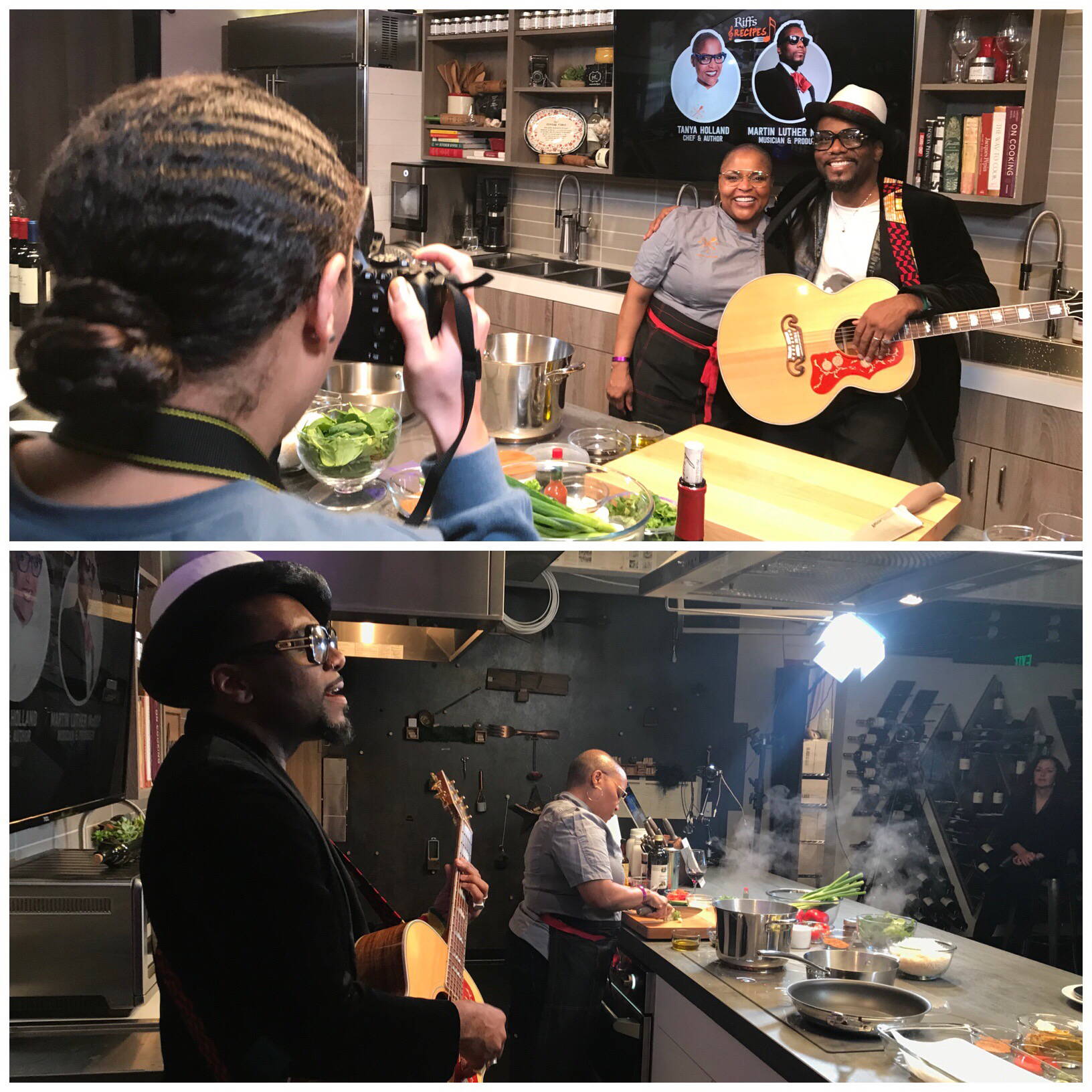 Tanya Holland BIO:
Known for her inventive take on modern soul food, as well as comfort classics, Tanya Holland is the executive chef/owner of the famous and beloved Brown Sugar Kitchen restaurants, located in the San Francisco Bay Area. The author of The Brown Sugar Kitchen Cookbook and New Soul Cooking, she competed on the fifteenth season of Bravo TV's Top Chef. and was the host and soul food expert on The Food Network's Melting Pot. A frequent contributor to the James Beard Foundation as a writer and chef, her Oakland, CA based Brown Sugar Kitchen has received multiple Michelin Bib Gourmand awards. An in-demand public speaker and lecturer, Holland frequently leads the conversation on inclusion and equity in the hospitality industry.Holland has appeared as a special guest on countless national television shows including the Today Show, The Talk, CBS This Morning, Hallmark Channel's Home & Family, VH1′s Soul Cities, Sara Moulton's Cooking Live, Ready, Set, Cook!, and The Wayne Brady Show. Additionally, she's appeared on many Bay Area shows including Check, Please! Bay Area, View from the Bay, and Eye on the Bay. Holland was a featured judge on TV One's My Momma Throws Down, as well as PBS' The Great American Chef's Tour.Holland has contributed articles to various magazines including Sunset, Food & Wine, Signature Bride, and The Wine Enthusiast, and has been featured in articles in many publications, including The New York Times, Savoy, The LA Times, Cherry Bombe, Stanford Review, Gourmet, O, The Oprah Magazine, The Wall Street Journal, Savoy, Gastronomica, Civil Eats, and Travel & Leisure. Her work also has appeared in the Huffington Post. In addition to her own cookbooks, she has contributed to several chef compilations including The Cherry Bombe Cookbook, Hoos in the Kitchen, Feed Your People, America, and The Great Cookbook.Holland has served as the president of the prestigious Les Dames d'Escoffier San Francisco chapter, and was honored by the City of Oakland when June 5, 2012, was declared "Tanya Holland Day." Holland was rewarded for her "Significant role in creating community and establishing Oakland as a culinary center." A year later, Mayor Jean Quan awarded her the Key to The City.As a chef, Holland travels extensively in pursuit of more experience and knowledge. In France, she trained with Michel Sarran at Le Mas Du Langoustier on the Island of Porquerolles, and with Jean-Michel Bouvier at Restaurant L'Essential in Chambery. She spent two summers cooking on Martha's Vineyard at The Oyster Bar and L'Etoile, which was interrupted by a winter at Hamersley's Bistro in Boston. She received rave reviews as the Executive Chef of The Delux Café in Boston, and The Victory Kitchen in Brooklyn. Intrigued by the burgeoning West Coast food movement, Holland decided to move to warmer weather where she returned to the front of the house and garnered stellar reviews in her starring role as Creative Director at Le Théâtre in Berkeley, CA. This led to the opening of her now famed soul food eatery, Brown Sugar Kitchen.Holland holds a Bachelor of Arts in Russian Language and Literature from the University of Virginia, as well as a Grande Diplôme from La Varenne Ecole de Cuisine in Burgundy, France. She began her restaurant career in New York City as an assistant manager at Cornelia Street Café, Café Rakel, and Nosmo King Restaurants. Later, she expanded her knowledge of the restaurant business by working as a Catering Office Manager, as well as a wine importer's Tasting Assistant, and a server at Mesa Grill. Her passion for cuisine led her to take on more responsibility as a Food Styling Assistant to Roscoe Betsill of Metropolitan Home, Vegetarian Times, and Food & Wine magazines. After returning from cooking school and deciding to turn her attention to the kitchen full time, Holland returned to Mesa Grill in 1994, where she worked under celebrity chef Bobby Flay. Tanya has been appointed as a culinary diplomat by the United States State Department for tours in Kazakhstan and Mexico. She has also taught classes in France for gastronomic travelers and will host a group in Tanzania in 2019.
Martin Luther McCoy BIO:
Jack of all trades; actor, guitarist, singer/songwriter, producer, soulman. San Francisco native Martin Luther McCoy refuses to confine himself to any one creative pursuit. An essential catalyst on the Bay Area's fertile 1990's neo-soul scene, he continues to serve as a conduit for socially conscious music. On the cusp of releasing his fourth full-length studio album, a self-titled LP focusing on original material, Martin Luther also tours as lead singer with the interdisciplinary alt-art-rock performance group Moon Medicin, a project led by keyboardist and internationally acclaimed visual artist Sanford Biggers. In some circles Martin Luther is best known for his work with the seminal hip hop collective The Roots. Many others discovered him through his incendiary performance starring in Julie Taymor's 2007 film Across the Universe. He's performed with Dave Matthews, Jill Scott, the Red Hot Chili Peppers and many other marquee acts. He was recently cast in the role of Musician, a griot sage, in Yale Repertory Theatre/ American Conservatory Theatre's production of Pulitzer Prize-winning playwright Suzan–Lori Parks' Father Comes Home From the Wars (Parts 1, 2 & 3). If there's one thread connecting all of Martin Luther's endeavors it's his grounding in the verdant soil of African-American culture, a soul-steeped presence that leaps off of stages, screens, and bandstands.
Jan 23, 2019

Category:

News
Comments: 0