HISTORY & PEACEFUL ABUNDANCE
Gibbs Vineyards pays tribute to Dr. Lewis Gibbs Carpenter Jr., a lifelong farmer and psychologist who moved to St. Helena in the 1950's to grow walnuts and dates in addition to grapes. Throughout his life since, his determined work ethic and Napa Valley's unique array of natural resources allowed him to expand his cultivation and eventually replace most of his nut and fruit orchards to several Bordeaux grape varietals. This both preceded and coincided with the Judgment of Paris in 1976, just as the Napa Valley was garnering international respect as a premier wine growing region.The land has been ideal for the growth of high quality, premier grapes. Cross Creek Vineyard, located between Howell Mountain and Glass Mountain in the upper part of Napa Valley, has proven to be bountiful of natural resources, explaining why wildlife most heavily populates that part of the valley. Outside of three rows of the original walnut orchard remaining intact, elegant Cabernet Sauvignon grapes now dominate. Located at the narrowest point of Napa Valley on Lodi Lane off the Silverado Trail, lies the Centa Vineyard, where even more Cabernet Sauvignon and Sauvignon Blanc grapes dominate. The origin of Centa Vineyard goes back to 1865 where grapes and a stone winery were built next to the once-existing Barro railroad station, and is known for abundant clay loam soil. 
Other varietals are sourced from highly-regarded vineyards, such as Bacigalupi in Russian River as well as Gargiulo Vineyard's Money Road Ranch in Oakville.In 2000, Lewis' son-in-law, Craig Handly, ushered in a new era for the family and the company as he transitioned from working as a label designer into becoming a winemaker. He honed his skills by making wines from private labels as well as starting his own with Terroir Napa Valley and Sentall. After Lewis passed away in 2013, Gibbs Napa Valley Wine was introduced offering limited amounts of Cabernet Franc, Cabernet Sauvignon, and Sauvignon Blanc from the family vineyards, which had been producing premier grapes for over forty years. The Gibbs-Handley tradition has now moved into the third generation, as Craig's son, Spencer Gibbs Handley, has joined in on all aspects of farming, winemaking, and other business operations. 
Last Summer the Feast it Forward team had the privilege of tasting through the Gibbs portfolio on the beautiful property at Cross Creek Vineyard, where the family resides. Everyone was struck by the amplified beauty displayed before us as we walked the property. It is one of the most peaceful and abundantly beautiful parcels we've seen in the Napa Valley, where all things nature seem heightened. The wines not only dazzled our senses, but the price points were shocking, easily making the accessibility to such gorgeous wines one of the best values in all of Napa-grown wines. This supports the belief many of us in the wine industry possess in that you don't have to drop $100+ on a bottle to have $100+ quality wine. In addition to the amazing Bordeaux wine offerings, Gibbs Vineyards also produces Chardonnay and Pinot Noir. 
Join us at The Studio by Feast it Forward to experience our lifestyle with a Gibbs glass in hand.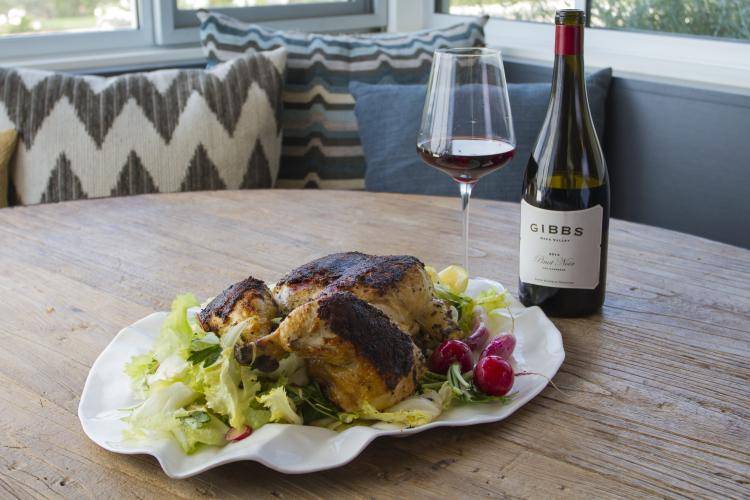 Jan 17, 2019

Category:

News
Comments: 0