Intensely Inky Ferocious Underdog
Aratas Wine is one of the only Napa Valley wineries dedicated to Petite Sirah. This love for Petite Sirah is at the heart of Vintners Stephanie Douglas, and brothers John and Mickey Chohany. Stephanie is the Founder, Brand Director, and creative leader behind Aratas, which is Hungarian for "harvest of gold" and attributed to the Chohanys' ethnic roots. Originally from the Bay Area, Stephanie's extensive background in wine export and distribution was helpful in launching Aratas Wine in 2011 along with husband, John, and Brother-In-Law Mickey. The Chohany Brothers have spent decades as the owners of the prestigious Second Street American Bistro, with restaurants located in Williamsburg and Newport News, Virginia. 
The origins of Petite Sirah have sometimes been more elusive when compared to other noble vitis vinifera prominently grown in Napa Valley. Most know and love it for its dark, bold fruit flavors; inky color, and intensely tannic structure. Originally knows as 'Durif,' it is traced back to France where DNA analysis showed it to be a cross between the Syrah grape from the Rhone Valley region and the Pelousin grape from Isere and Provence regions. While the berries themselves lend to being called "petite," the smaller size increases the tannic skins and seeds to flesh ratio, providing a much stronger tannic presence. It was planted in California in the late 1800s, surviving both phylloxera and 1930s Prohibition. Other varietals native to Bordeaux decreased plantings of Petite Sirah in the 1970s correlating with the Judgement of Paris in 1976, although it has steadily risen throughout Northern California in recent decades.The Aratas Trio knew they wanted to employ a winemaker with impressive pedigree. Napa Native Matt Sunseri was their man, as he previously had the opportunity to work with some of the most legendary winemakers in the business such as Heidi Barrett, Helen Turley, Helen Keplinger, and Paul Hobbs. His unique ability to anticipate vintage variation as well as identify both terroir characteristics and varietal identity are key to his successes. Matt's abilities correlate with the vision Stephanie, John, and Mickey set out to create. Their limited production includes a "Shake Ridge Ranch" Petite Sirah from Amador County; a Petite Sirah from Napa Valley; a Petite Sirah-Syrah blend from Napa Valley; and a deliciously unique Chardonnay from the Carneros in Napa Valley. 
At The Studio we share these wines with pride admittedly serving one of the geekiest wine lists with price tags that just about any wine lover can be comfortable with. Since Aratas Wine does not have their own tasting room, we will be their only location where they are readily available to sample. Come on by and we'll raise a toast to Petite Sirah, the ferocious underdog varietal that commands the attention of our palate!
image provided by WineFolly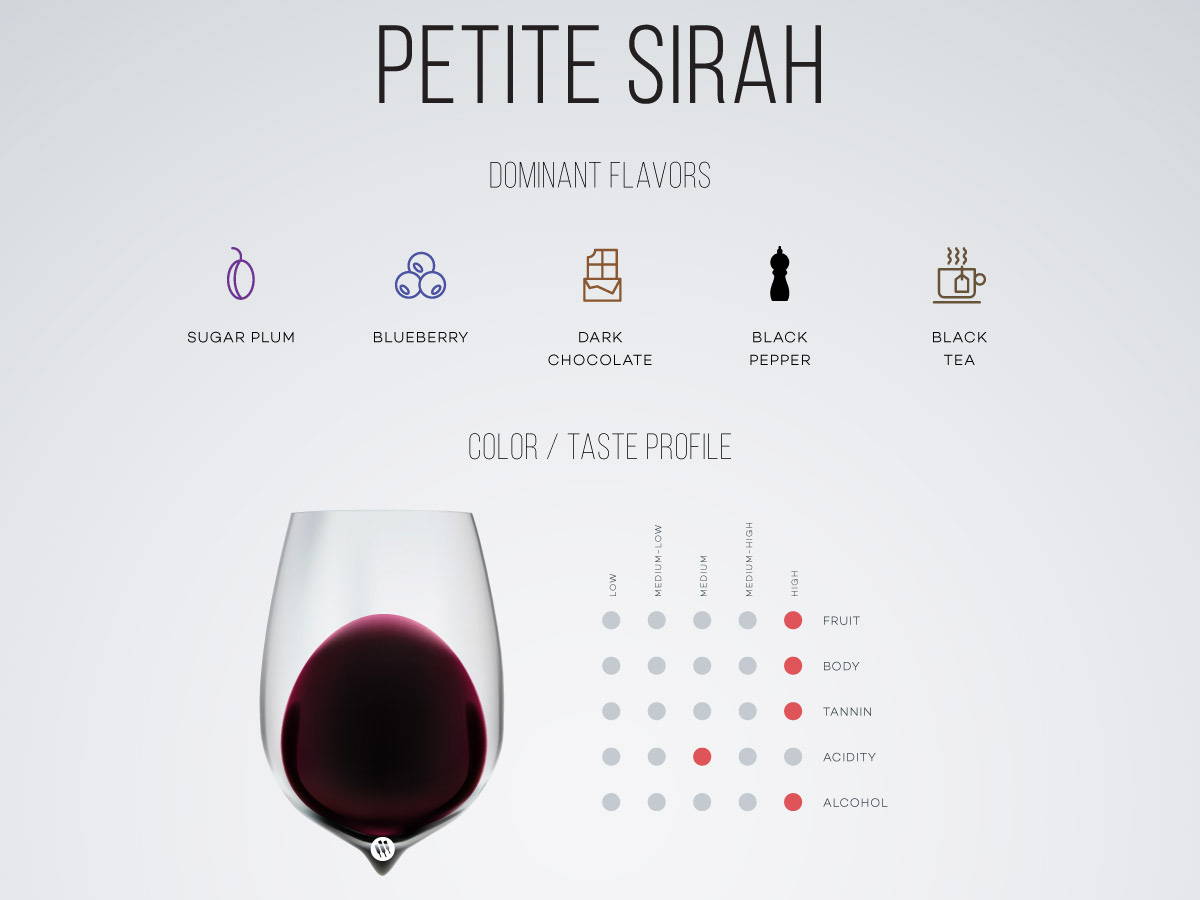 Dec 19, 2018

Category:

News
Comments: 0